So le Tour has made it's from the high mountains of the Pyrenees and is heading for the Alps, so I have made a polka dot K.O.M. dress.
Yes I know, the polka dot jersey is supposed to be red and white, but I worried about looking like Minnie Mouse. And I could find any red and white polka dot fabric that I liked. The fabric is a wonderfully drapey viscose from Direct Fabric Warehouse, for £5.99 a metre and I bought 1.5m of fabric.
The pattern is the Lou Lou Dress by Charlotte at English Girl at Home. Doesn't it have a lovely pattern illustration?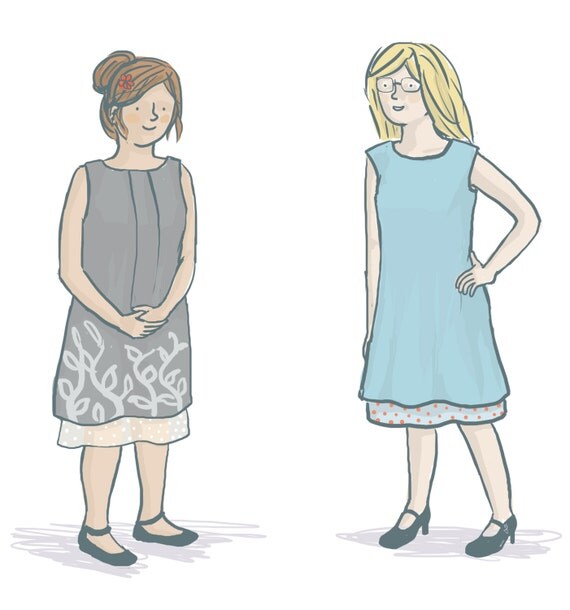 I was one of Charlotte's pattern testers last year, so I was excited to make the pattern up again now that it has been released. The new and improved version has a new option, version C, which is what I choose to make. I tried very hard to find some nice drapey co-ordinating fabrics, but was seduced by the green and blue polka dot, but sadly could not find another fabric to go with it. I choose version C because of it's waist seam, it was perfect for inserting little pockets (I have got to have pockets and felt that inseam pockets would effect the drape of the dress).
I drafted a simple pocket pattern piece and inserted them into the waist seam, added a little fabric loop and buttons from my stash. I also borrowed the short sleeve pattern piece from New Look 6069, to add little (maybe overly) puff sleeves.
Becasue I was adding sleeves I didn't line the dress, but finished the neck with bias binding.
I do feel like go off piste completely and making up a knit version...watch this space. Until then, here is my original test version that got a lot of wear in Autumn and Spring (when the heating was working in my office).
This is an easy to wear and easy to make dress, and these will definately not be my only versions.